Hire Inflatables & More For Your Party!
Jumping Castle Rentals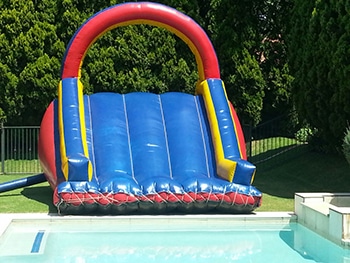 Delivery: Jumping castles are delivered within the Johannesburg area. Please ask for the delivery fee for your area.
Collection: Jumping castles and waterslides can be collected from our office on Friday from 9h00 – 15h00. On collection you will be required to produce a barcoded SA ID book.
Jumping Castle Sales
Will's Hire supplies a range of jumping castles and slides manufactured by our sister company Jumping Castles 4U.
For more information, prices and pictures of all the jumping castles and slides that we are able to supply, please visit our website.
Make A Booking
Booking requests can be made by filling out the booking form or via email or by contacting 082 852 3510.
Popcorn Machine
Deliveries: The machine can be delivered around Johannesburg North. Delivery fees will apply, please call us for a delivery quote.
Why not add that carnival atmosphere to your party or event? Rent one of our colourful popcorn machines from only R500.00 per day.
Optional Extras: The following can be ordered from us:
30 g paper bags – 30c per bag
1 kg kernels – R30 per bag
Please note that 1 kg kernels will make approximately 30 x 30 g bags
Operating the machine: Full operating and cleaning instructions will be supplied to the hirer. Please note that NO machine operator is supplied with the popcorn machine.
Catering Tables
Need a table to put the cakes and drinks on, but not too keen on putting your prized oak table outside? Why not hire a trestle table for the day? We can supply 1.8 m tables for only R80 per day and we will deliver on the morning of your party and collect the following day.
Kiddies' Tables & Chairs
Having a party? Dreading the thought of all those kiddies dropping their cakes or spilling their drinks on your new carpet? Why not put them around a table? We supply kiddies' plastic table and chair sets (table and 4 chairs) for only R80 per set. We can deliver them with your jumping castle or other inflatables.
Payment Policy
All rentals must be paid for prior to the delivery date via internet transfer.
Please note:
Due to security concerns we can no longer accept cash on delivery. We only accept EFTs.
Wills Inflatables
Standard Bank
Robertson
Acc No: 302 252 916
Branch Code:050 413
Business Opportunity
Invest in a "business in a box"!
Run Your Own Jumping Castle Business
Running a jumping castle business from your home is easy to do and is ideal for anyone looking for an additional income and wanting to set their own working hours.
How much can you earn?
This depends on how many times you rent out your castles – The more rentals you have, the higher your income.
You can either rent the castles out per weekend or, with most parties happening on Friday afternoons and Saturday/Sunday mornings and afternoons, you can rent out each castle a number of times per weekend to maximise your income.
The jumping castles can either be collected from you or if you have a bakkie, you can offer a delivery service which will increase your turnover as you can charge a delivery fee.
What can you earn by renting out your castles only once per weekend:
| | | | | |
| --- | --- | --- | --- | --- |
| Number of Castles | Average rental per unit | Number of rental p/w | Total income p/week | Total income p/4week month |
| 5 | R500 | 5 | R2,500 | R10,000 |
At an average income of about R7,500 per month, depending on the option you choose, you will be able to recoup your initial investment in about 6 months.
Add Value To Your New Business
You can increase your income by supplying a selection of party packs, birthday cakes and helium balloons. Popular items such as the plastic kiddie tables and chairs, as well as the steel catering tables can also be added to your stock as you grow.
Go one step further and supply themed table cloths and chair back covers for both girls' and boys' parties!
Set up costs for your new business (your initial investment):
Option 1

3 x Jumping Castles

Standard castle

Standard castle with roof

3-in-1 combo, castle with slide & ball pond

R35,000 See below for details

Option 2

4 x Jumping Castles

Standard castle

Standard castle with roof

Large standard castle

3-in-1 combo, castle with slide & ball pond

R45,000 See below for details

Option 3

5 x Jumping castles

Standard castle

Standard castle with roof

Large standard castle

3-in-1 combo, castle with slide & ball pond

Castle with slide

R55,000 See below for details
What's included in the above options:
Jumping castles as specified in the 3 different options
1 x 10 m extension cord for each jumping castle
A 2 wheel trolley to easily move your castles about
A carry bag and anchor pegs for each castle
12-month warranty on your new jumping castles
Advice on setting up your new jumping castle business and where to market it
Advice on how to look after your equipment
We have an established business model that will allow you to get your new business up and running with minimal fuss and without the pitfalls of starting a small business from scratch. You won't have to do it alone, once you have bought your "business in a box" from us, we will always be just a phone call away for any advice you may need.